---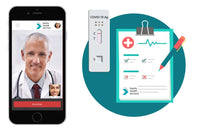 Telehealth COVID-19 Ag Rapid Test Kit + Session
Health Canada approved COVID-19 Ag Rapid Test Device is an in vitro rapid test for the qualitative detection of SARS-CoV-2 Antigen (Ag) in human nasal swab specimens.
Fast Identification
Results in 15-30 minutes
No special/additional instruments required
Our expert Telehealth agents will guide you through the rapid antigen test process and certify your results. Please note, you must be present for the entire session (approximately 20 minutes) to receive a certified test result and QR code verification.
Each kit includes a test device and swab. The kit also includes a link to our online Telehealth booking and Telehealth site.